Anita Foley-Duggan
My name is Anita Duggan and I am from Kilkenny in the Republic of Ireland.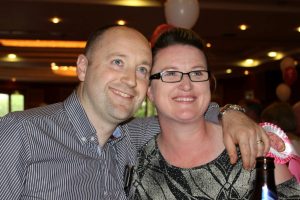 I am married with two children.
I went to my first dog show when I was 6 weeks old and the rest as they say is history. I got bitten by the show bug and started showing of my mother's Shih Tzus under the Leorient affix.
In the 80's we got our first Siberian husky. We have been very fortunate to have owned, bred and campaigned the top Siberian husky in Ireland for many years.  Our small kennels of dogs are record breakers within the breed in Ireland. We have bred the youngest ever Irish Champion in the breed as well as the most winning Siberian husky ever in Ireland.
My Dog, Multi Ch Bedarra Cold Paws Warm Heart for Leorient, has been Top Siberian in Ireland 2011, 2012, 2013, 2014 2015 as well as Runner up Top Dog all breeds in 2012 and 2014.  We also represented Ireland in the Eukanuba Challenge at Crufts in 2017.. He has also sired many champions in several different countries. His Son Multi Ch Leorient Flying Solo is currently top dog in Ireland.
I started judging in 1997 starting with Shih Tzus.  Since then I have judged in many countries including Australia, America, Slovenia, Sweden, Finland, San Marino and Denmark.
I am currently passed by the Irish Kennel Club to judge Groups 1,2,5,6,9, and 10 as well as Best In Show and Junior Handling.
---
---
Charlotte Höier
I have been deeply involved with dogs since I as a 10 year old schoolgirl entered my first dog show i 1964. When I was 13 I got a 3 month long leave from school, which gave me the opportunity to stay with the world-famous breeder, writer and Judge Mrs. Margaret Osborne, Shiel Kennels in England. I have been breeding rough Collies (one litter every 2. – 3. Year) since 1976 and I became a judge in 1982.
Since then I became approved for all the British Sheepdogs and later for FCI gr. 1 and 10 and later again for 12 breeds in group 9 and a handful breeds in group 2 and 5.
It is always a great experience to judge in Finland. I think my first appointment was in 1983 and I normally judge at least once a year in your beautiful country. You have high quality in dogs and always great hospitality and very well organized shows.
I look very much forward to see you all in Lahti.
---
---
Hans Van Den Berg
I started showing dogs since i was 16 and that is a long time ago. Since then i made up champions and cacib winners in scottish terriers, norfolk terriers and chihuahua's. Judging started in 1978 and since then i've been traveling around the world. I judged many times in Finland and i'm always looking forward coming again. The shows are always so well organized and over the years i made many friends. Yo be honest, your language is not very easy but…..i can say west highland white terrier in Finnish and that was not easy!
---
---
Katharina Round
My name is Katharina Round, I was born in Paris (France) from two British parents, so I speak fluent French and English and have dual Nationality. I studied general Art in Paris and specialized in sculpture and ceramics.
As far back as I can remember I have loved dogs, my first one was a fantastic German Shepherd with no pedigree.
From the age of 12, I used to go to shows and help people handling and grooming.I bought my first show dog (a westie) when I was 20 and he went BIS at his first INT Show, needless to say that I was hooked. At that show, I met the only French handler in those days (Mr Pierre Boetsch) who asked me to work with him at week-ends, I accepted and learnt all about grooming and handling many very different breeds, so I have always been attracted to all breeds.
My Prefix « De Champernoune » is registered both in France (FCI) and in the UK. It is still behind some top winning dogs in the ring now, although I stopped breeding in 2010. I have bred and shown all over Europe for 35 years. I have owned and made up Champions in several breeds: Of course, West Highland White Terriers, Scottish terriers and American Akitas are the breeds I am most well-known for as I have had numerous Multi Titled dogs including UK, World, European, International Champions, Group and BIS winners too.
I have owned or bred several Top Dog All Breeds and have been awarded Top Breeder in westies, scotties, border terriers, and American Akitas during many years in France. I have exported quality dogs to many different countries where they have been quickly made up.
I have also owned or bred Champions in Cairns, Sealyhams, Border Terriers, Norwich Terriers, Smooth Fox Terriers, Lakelands, Chow Chows, Tibetan Terriers (a world BOB winner), and Golden Retrievers. I have also owned an Irish Wolfhound, a Greyhound a Doberman and a Great Dane.
As you can see my love of dogs is quite eclectic!
I wrote the first book in French about the Westie. I have been Vice President of the « scottish breeds club » in France for several year and Chairman of the American Akita Club for 10 years I am now on the Health / breeding committee of the club. I Imported the first Wheaten Scottie in France and bred the first litter of that color too with the first champions made up from it. I also owned the first American Akita to be registered with the French KC after recognition of the Breed by FCI.  He became the first ever Champion of the breed in FCI.
I Judge all breeds in the FCI Terrier Group, many breeds in group 5, a few in group 9 & 2.
I judge regularly in France including Specialty shows, I have judged in The UK many open shows but also, I award CC's in Scotties and in westies. I judged the prestigious Westie of the Year contest.
I have judged National specialties in USA, Canada, Spain, Finland, Poland, Italy and Russia.
I enjoy travelling around the world meeting lovely dogs and their owners, and discussing the finer points with my fellow judges.
I take judging very seriously, I like to give exhibitors a good run for their money.
Most sincerely, Katharina Round
---
---
Luis Gorjao-Henriques
Luis Gorjão-Henriques, Portugal
Website: www.valedocriz.com
Languages: Portuguese, Spanish, Italian, English, French.
As a Breeder: "Vale do Criz" kennels since 1982, although the first dog show was in 1979. Owner/breeder of Champions on the breeds Boxer, Portuguese Podengo Small Smooth Hair, Portuguese Pointer, Fox-Terrier (both coats), Parson Russell Terrier and Jack Russell Terrier, with 402 titles achieved at this moment with dogs either bred or owned by me, including several World and European Winners.
Has Judged in the following foreign countries: Australia, Belgium, Croatia, Cuba, Czech Rep., Denmark, England, Estonia, Finland, France, Germany, Gibraltar, Greece, Hungary, Ireland, Italy, Latvia, Lithuania, Luxembourg, Northern Ireland, Norway, Poland, Romania, Russia, San Marino, Slovenia, Spain, Sweden, Switzerland; Ukraine and USA.
Breeds Judged:             Group I – All breeds
Group II – All Breeds, Boxer (Specialist)
Group III (Specialist): All Breeds.
Group IV: All Breeds
Group V: All Breeds
Group VII: Portuguese Pointer
Group VIII: Portuguese Water Dog
BIS
Year of First Qualification: 1992
Other Information: President of the FCI Breeding Commission since 2016, Vice-President of the Clube Português de Canicultura, since 2009, member of the board of the Interra (International Terrier Association) since 2002, member of the FCI Breeding Committee, member of the Audit Comitteee of the Boxer Club de Portugal 2012-2014, President of the Boxer Club de Portugal between 1996 and 2002, President of the Bulldog Club de Portugal between 2003 and 2006 and Vice-President since 2006, member of the board of the Terrier Club de Portugal since 1998 and of the Clube do Podengo Português since 1993, President of the General Meeting of the Clube Português do Cão da Serra de Aires and of the Associação para a Protecção do Cão de Água Português. President of the Portuguese Breeds Committee of the Clube Português de Canicultura from 2000 to 2002.
---
---
Simon Mills
Let me introduce myself, my name is Simon Mills and I am an owner, breeder and handler. I am currently exhibit and breed of Jack Russell Terriers, Smooth Fox Terrier. I have successfully bred under the CLAYCO prefix and have exported dogs to Japan and USA.
I have been involved in breeding and exhibiting dogs since childhood, which has spanned over 40 years. My initial involvement in the dog world was with Weimaraners which I exhibited, bred for over the 25 years. I had with major success in the conformation ring and numerous champions and many of my dogs being behind some of the top winning Weimaraners in Australia.
I owned and exhibited and had involvement various breeds (GSP's, Whippets, Fox Hounds, Beagles). I have prepared and shown many coated terriers to be major winners with numerous Best in shows at all breeds shows and breed speciality shows. My involvement with gundogs also meant I had involvement with field and obedience work.
My kennels have had major success in the conformation ring and have produced excellent breeding stock for other kennels. Our kennels has produced National speciality winners, regional speciality winners, all breeds best in show winners and numerous group 1 placement winners.
I have been fortunate to have judged at all breeds shows as well as group and speciality breed shows in England, Japan, Denmark, Sweden, Austria, New Zealand and within Australia. I am licensed to judge all Toys, Terriers, Gundogs, Nonsporting breeds and Hounds at breed level and group specials.
I am the President on the Australian Capital Territory (Canberra) Canine Association and as such hold a position as one the Director's on Australia National Kennel Club Board which administers dog governance in Australia.
I feel very passionate about breeding, exhibiting and judging dogs and improving and promoting dog sports. I am looking forward to judging in Finland.
Simon Mills
---