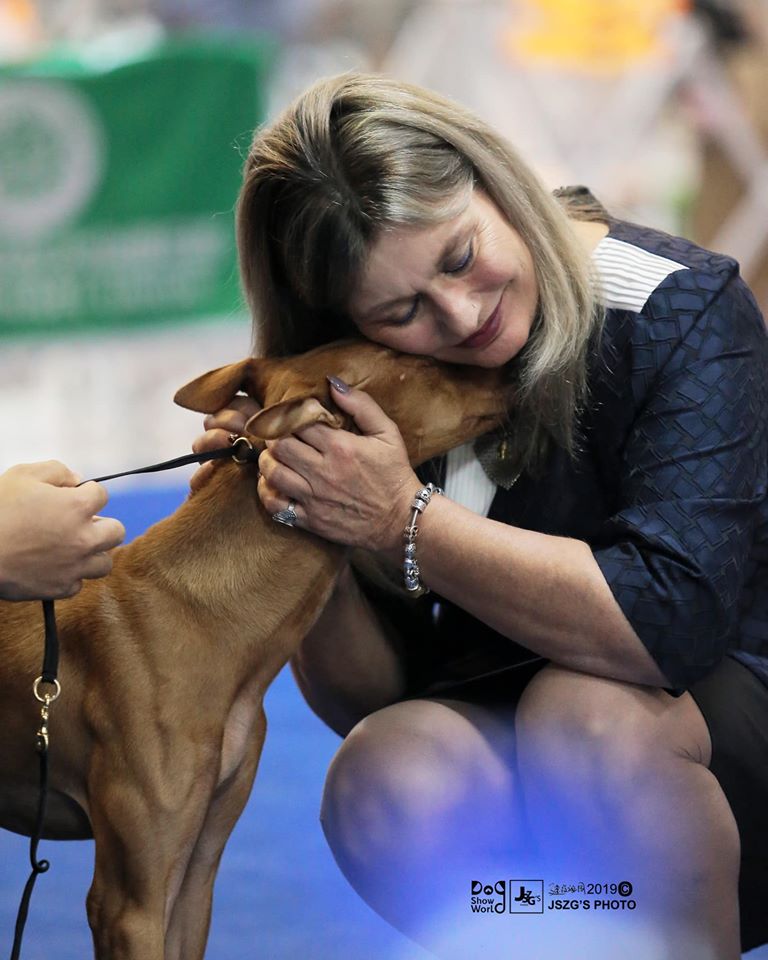 Languages: Cypriot, Greek, English, French, Italian etc.
Judged: Australia, Belgium, Bulgaria, China, Chile, Cyprus, Czechia, Denmark, Estonia, Finland, France, Germany, Greece, Hungary, India, Indonesia, Ireland, Israel, Italy, Latvia, Lithuania, Luxembourg, Moldavia, Netherlands, Norway, Poland, Portugal, Romania, Russia, San Marino, Serbia, Spain, Sweden, Switzerland, Thailand, U.K , Ukraine, etc.
Involved in canine and equestrian activities and since childhood.
Owned her own first dog, a GSD, in 1979 when studying in France and then also involved in shar pei in UK.
Her first judging appointment was in 1992. In 2013 she became an all rounder. She is also a trial judge and a working judge.
Since 1995 permanently lives in Cyprus and bred Mini Pinschers and mini schnauzers under the affix 'Kelkyon" and Rottweilers with her husband (under the affix Mount Olympus "). Before that she had originally registered her affix in U.K.
Produced and owned many Champions and International Champions and winners of many prestigious shows. She is currently in Team partnership with vom Zecwald rottweilers in Serbia and with Hecateous Rise kennel in mini schnauzers
Involved in many breed clubs and supports all canine activities all over the island.
From 2002 to 2006 she was the elected Secretary General of the Cyprus Kennel club and for many years she was the secretary of the Pointing club of Cyprus, also of the Small breed club of Cyprus. In 2003 she created the Cynology College of the C.K.C. She has also founded in
2003 , the Mediterranean Winner show.
She has been the secretary of the Pointer Club of Cyprus, of the Rottweiler club of Cyprus for many years ,also of the Small breeds Club of Cyprus as well as the secretary of Mount Olympus working club.
She encourages junior handlers and runs sessions for children and junior handling as she strongly believes that this is the future of Cynology.
The last years was in charge of the Judge's committee and the Canine Cynology College of Cyprus Kennel Club.
She owned Gsd, Sharpei, Zwergpinscher, Sschnauzers (all sizes) , Labrador, cocker spaniel, Rottweiler, Dobermann, Pointer, Epagneul Breton, Poodle and Pomeranian.