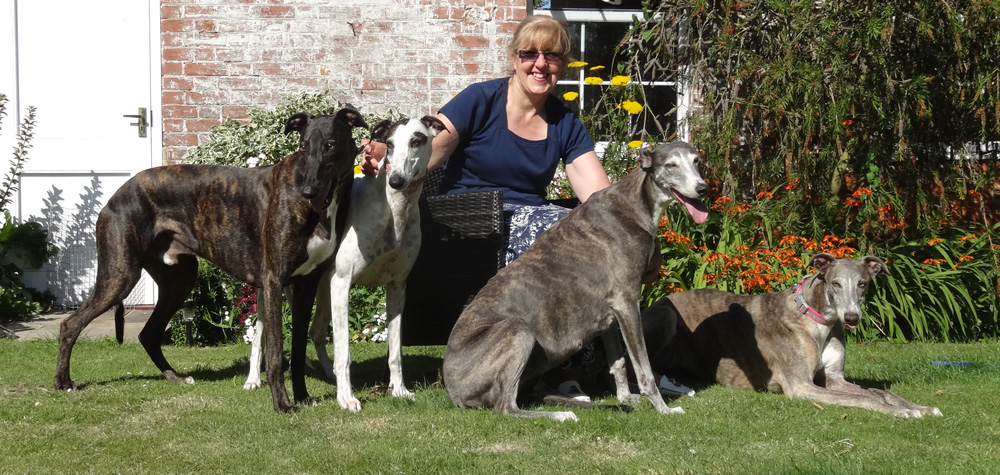 Firstly I am truly delighted to have been asked to come to judge your dogs in Finland and so looking forward to the weekend. 2022 will be the 30th anniversary of me owning greyhounds so what a lovely way to celebrate!
I grew up in a 'doggie' family with my Aunt, Monica Boggia-Black an all round judge in the UK and my mother who showed and judged whippets and French bulldogs. So, I guess it was inevitable that I too would become immersed in the canine world! I lived abroad and then in London as a young woman so having a large dog was not practical. It was not until I moved back to Kent I wanted my own larger hound to show. My parents were on holiday when a dog sitter came to look after my mother's dogs – she was Sorcha Wilde (Sheila Kemp) of the famous Witchesbroom Irish Wolfhound kennel. We were talking about my desire for a show dog and that I had been looking for the right greyhound for nearly two years when she mentioned she happened to know where there was a litter. So, the next day we went to Peters Farm to the famous Solstrand kennel of Dagmar Kenis. Dagmar was so generous in letting me choose my own puppy from what I recall as a totally blue brindle litter of 7, born in 1992. I did not tell my parents initially, waiting until I came home with her after collecting 'Folly' a few weeks later! Getting my own dog was something that I had to do myself without any 'family interference'! Of course, Folly was the most elegant and beautiful creature, (I am just a bit biased you understand!) but she did become a UK champion which is no mean feat - Ch Solstrand Fait Accompli. Folly had several lines back to my grandfather's Parcancady Lancer (who was the father of the famous and influential sire Ch. Treetops Hawk). She was the gentlest of creatures and such a wonderful introduction to the world of owning a greyhound. This whole litter was very influential with Solstrand Follow the Blues to Exhurst going to Georgianna Muller in USA, Solstrand Forget Me Not of Northwells going to Tormod Rist in Norway and Maggie Holder had Solstrand Fine and Dandy.
Over the years I have been very lucky to have bred or owned 27 UK champions. At home I also have a mastiff and whippet who keeps the greyhounds under control for me!
In the UK I have awarded CCs in Greyhounds, Whippets, French Bulldogs, Saluki, and now approved to do Irish Wolfhounds and Rhodesian Ridgebacks. I am Chairman of the Greyhound Club, Vice Chairman of The Hound Association and committee member on the oldest whippet club in the UK, The Whippet Club.
Clare Boggia (Boughton)