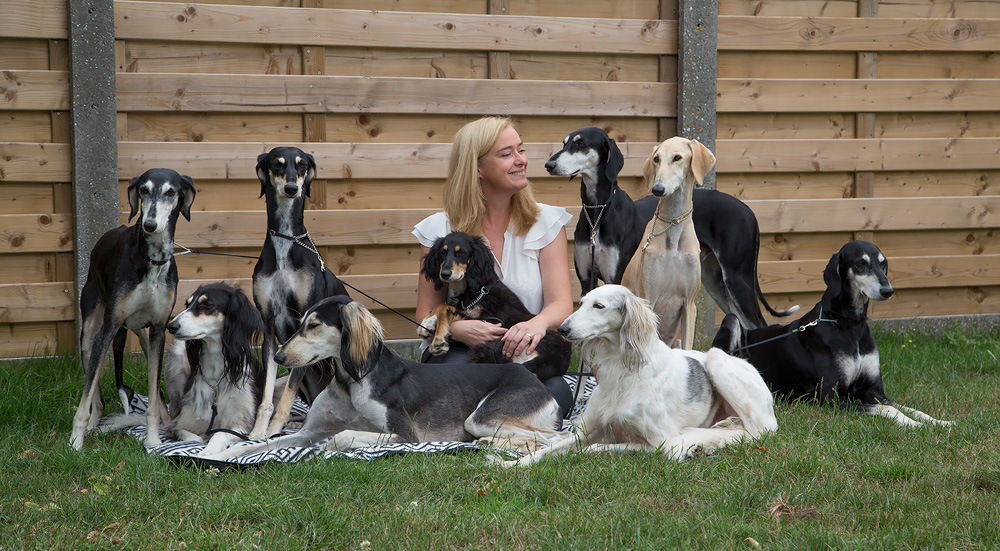 I live in a small town called Zwevezele, near Bruges in Belgium with my husband, two children and my 6 Saluki girls and 1 male.
I grew up with Salukis, Afghans and Lhasa Apso's, but very early on it was clear to me that Salukis were my favourites. When I was 6 years old we started going to shows and I was immediately hooked.
I have been very fortunate to have had the opportunity to travel with my mother all over Europe to see different Salukis and some legendary Saluki people. I believe it was the best learning school I could have gotten.
Being involved in the breeding and selection of puppies all my life, I took over the kennel 'Har Kala Rachi' completely in 2000. To introduce new blood in our lines I imported a Swedish bred smooth bitch and she started a very successful breeding for me, producing multiple specialty BIS winners and all breed BIS winners. In just a few litters I have exported Salukis in over 16 different countries. When selecting I don't look at colour or hairtype but health, temperament, construction and movement and believe that is my strong point.
I also make a point of it that my dogs have their lure coursing license, even though I don't have time to compete because of my young family, I believe it is important that the Saluki can still do what it was created for.
In 2006 I became involved in the Belgian Saluki Club first as secretary and a few years later as president, this until the club became unactive.
I believed I was ready to start my judgeing career many years ago and following the strict rules in Belgium I became an international FCI judge in 2013. In January 2018 I obtained my licence to judge all sightound breeds.
I enjoy very much meeting the owners and dogs in different countries and have been fortunate to have been invited to judge big specialty shows all over Europe, Canada and the US.
It is an honour to have been asked to judge this specialty show, an event I'm very much looking forward too.
Sibylle Benoit
Har Kala Rachi Saluki's, Belgium