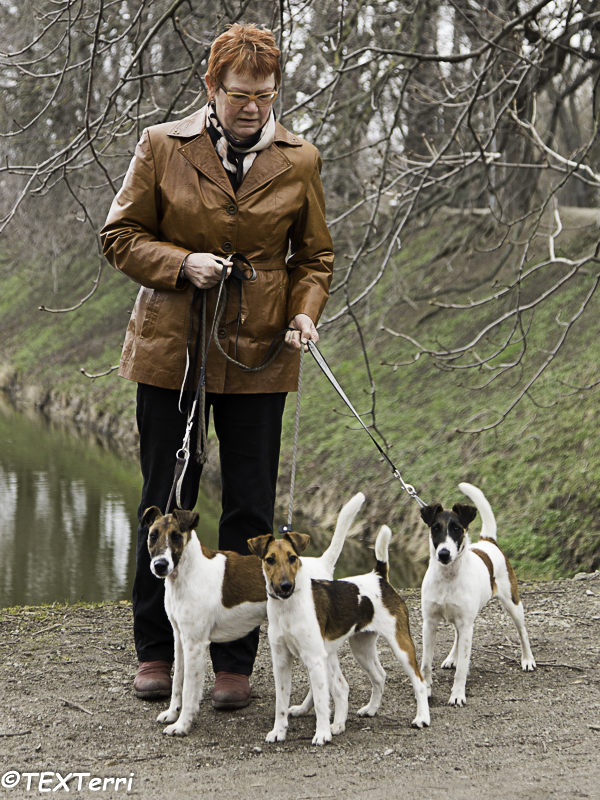 I got my first dog, a Wire Fox Terrier, in the year 1961. I began to take part in club activities, shows, obedience and hunting training from the beginning. My first dog was not a star, so I purchased soon another, a bitch, who became Champion. My first litter of Wire Fox Terriers was born in 1968, and since that I have bred over 200 litters, of Wire and Smooth Fox Terriers, English Springer Spaniels and Longhaired Standard Dachshunds, under Wolfheart prefix. I have never counted how many champions and group winners I have owned or bred, (well over 200) but we have had over 50 International (FCI) champions. I have exported dogs to about 20 different countries and many of them have become champions in their new home countries. There has been also several hunting trial and dual champions. One of our most successful dogs has been the Smooth Fox Terrier Int Ch Wolfheart Nutcracker, who was Terrier of the Year in -76. Our successes include winning the European Champion title in –98 with Int Ch Wolfheart Moritz and World Champion title in 2001 with Ch Wolfheart Diamond Lil.
First I became a judge in -76. I was qualified as an all-breed judge in - 96. (in the FCI countries that means: qualified to award CCs in all the about 350 breeds recognized by the FCI.). Besides Finland, I have judged in 51 different countries: Argentina, Austria, Australia, Belarus, Belgium, Bosnia, Bulgaria, Canada, China, Croatia, Cuba, Cyprus, Czech Republic, Denmark, Egypt, Estonia, France, Germany, Greece, Hungary, Iceland, Ireland, Israel, Italy, Japan, Kazakshtan, Latvia, Lithuania, Luxembourg, Malta, Monaco, the Netherlands, New Zealand, Norway, Poland, Portugal, Romania, Russia, San Marino, Slovakia, Slovenia, South Africa, South Korea, Spain, Switzerland, Sweden, Thailand, UK, Ukraine and USA.
I have been also Terrier & Dachshund underground hunting trial judge for 30 years, but decided to give that up because lack of time. We used to keep foxes and train dogs for hunting trials, but nowadays there is no time for that.
I have given lectures for many different clubs about breeding, shows, etc.
I have been member of several Finnish Kennel Club committees: the Breeding Committee, the Standard Committee, the Show and Judges' Committee and the Editorial Committee. At the moment I am a member of the Standard Committee.
I have been decorated by the Finnish Kennel Club (golden pin of merit), the regional Kennel Club, the Finnish Terrier Club (golden pin of merit) and the Finnish Dachshund Club. I have been awarded the Vuolasvirta Breeders' Plaque of the Finnish Kennel Club and the Breeders' Plaque of the Finnish Terrier Club and the Golden Pin of Breeders (nr.1) of the Fox Terrier Club of Finland. In 2018 I was nominated as a Honorary Member of the Finnish Kennel Club.