Tuomarit
Varalla kaikille roduille Paul Sanders

basset hound, bretagnenbassetti Paul Sanders, Alankomaat
basset artesien normand, grand basset griffon vendeen, petit basset griffon vendeen, baijerinvuoristovihikoira, briquet griffon vendeen, gascognenbassetti, grand griffon vendeen, griffon fauve de bretagne, hannoverinvihikoira, iso gascognenajokoira, petit bleu de gascogne, saukkokoira, vihikoira Ricky Lochs Romans, Alankomaat
Ryhmäkilpailut:
paras kasvattaja- ja jälkeläisryhmä, näyttelyn paras Ricky Lochs Romans
paras pentu, juniori, veteraani ja käyttökoira Paul Sanders
Tuomariesittelyt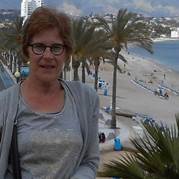 Mrs Ricky Lochs-Romans
NETHERLANDS
FCI: All Breeds
Judge Mrs. Ricky Lochs-Romans

I am involved in the Dog World now nearly 60 years. My own breed
is Field Spaniel, Irish Setter,. and Dachshund. When I was 7 years old I was going for the first time to a show, and this little show, was responsible for getting me so deep in the Dog World. I started at home with a English Cocker Spaniel

After married We became a Irish Setter, because my husband love
the breed, after a few year later we became our first Field spaniel.
With this breed we going to shows, breeding some litters. In every litter we have some Show and Working Champions. Brooklet's Field Flinn was the first Field Spaniel in Europa wat became the Title International Champion for show and Field Trails.
Irish Setter we have only doing showing and field trails. From my15 year I have work in the ring as a steward.
In 1982 I did my first breed exam This was the Irish Setter.
I was 25 years secretary of the Irish Setter Club in the Netherlands
Did 25 years organisation off the Gundogshow in the Netherlands and I do now with a lovely team the International Dogshow off Maastricht (NL) more than 17 years. From this Club I'm a member for more than 50 years.
My roods are gundogs, dogs from FCI group 6, was my theather Mrs. Gondrexon, and later on we going once in the 2 years to a special houd show in France.
There we have olways nice contact with the breeders od this beautiful group.
I love to come and judge your dogs.

Since December 201,1 I was inaugurated by the Dutch Kennel Club as the fifth all-rounder, but the first woman in the Netherlands, allowed to judge all breeds at championship show level. I completed breed exams in all the 10 FCI groups. I have Judge Best In Show and all FCI groups at internationale level in the Netherlands and abroad.
I have judged in most of the European Countries, UK, Scandinavia, Australia, Russia and USA.
For more than 40 years I am a member of the Irish Setter club and Spaniel (Field Spaniel club) in the Netherlands, the breed club in the Netherlands.
I'm member off the Royal Dutch Kennel Club "Cynophilia."


Ricky Lochs-Romans (All Round judge)

Herenhof 11
6162 EB Geleen
The Netherlands
Phone: +31-653 427 5152
E-mail: r.lochs-romans@planet.nl
rickylochsromans@gmail.com
Paul Sanders
My name is Paul Sanders.
I am almost 60 year old, married with Marianne , we have 3 children and 2 dogs
My first breed to judge was the Bassethound, I succeeded for the examination in 1988 now I am judge for group 4 and 6 from the FCI .
I have judged in several countries, mostly the Bassetbreeds.
I have bred several litters of Bassethounds in the 80th under the name Clayton's Clan, named after my first Bassethound Clayton van Hollandheim.
During the years I was possessed by Bassethounds, PBGV's, GBGV's, a Pug, Dachshund, Bracco Italiano's and a St Bernard. At the moment we have 2 GBGV from the Du Greffier du Roi Kennel in Holland.
The most important quality in a dog for me, is soundnes in construction, type and health. I love to see this quality back in the movement.
Thank you for the invitation to judge again in your beautiful country, I am looking forward to see you and your lovely dogs on the 5th of August in Kuopio.